Residential Automation
Home Automation   |   Media Room Design   |   Multiroom Audio   |   Lighting Control   |   Energy Management   |   Entry Systems   |   Security   |   Surveillance   |   Motorized Shading   |   Centralized Distribution  |   A/V Calibration   |   Networking   |   Touch Panels Devices
HOME AUTOMATION
If your coffee table is littered with six remote controls, and you can't figure out which one turns the Blu-Ray player on, we've got your solution! Intelligent home control devices put an end to remote overload. With one reliable & user-friendly device, anyone in your family can operate the entertainment system, lights, thermostats, shades and more.
Lighting Control and Music in Every Room
Motorized Shading and Media Distribution
Temperature Control and Security/Surveillance
Home Theater and more…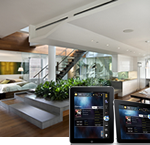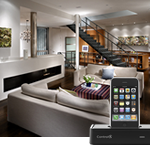 ---
Media Room Design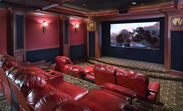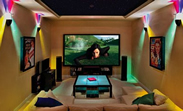 A dedicated private cinema is a room in which the environment has been precisely designed & engineered to provide maximum movie and music enjoyment. Special acoustic treatment isolate the room from outside noise, and measured speaker placement optimizes the audio. Plush theatre seating is carefully positioned to allow for unobstructed viewing of your video content on the big screen. Room lighting is controlled.
---
Multi Room Audio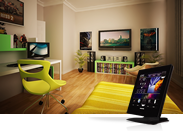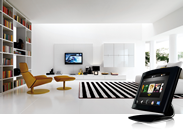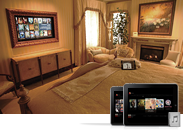 Audio Distribution systems send music to any room in your home or office via a central processor. Control of your music play­lists is simple and intuitive by means of a touch panel, keypad, handheld RF remote, iPad or similar wi-fi device. Whether the speakers are placed in the walls, ceiling, bookshelves, yard, shower or pool, each A/D system is uniquely designed to blend in with its surroundings in order to minimize the visual impact.
---
Lighting control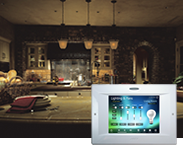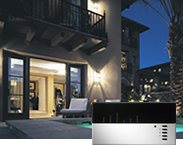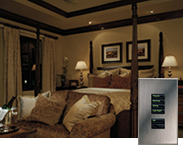 Go green and save money by installing new fixtures, or replacing existing lights, with an energy efficient design. Custom-tailored lighting control will allow you to change the mood of any area of your home to suit the occasion. Whether you are watching TV, dining or entertaining, one press of a button can create the ideal atmosphere you desire. Intelligent lighting also contributes to a safe environment by linking with the security system to turn lights on if uninvited activity is detected.  New construction or upgrade – let us fashion a lighting solution perfect for you.
Find more …
---
ENERGY MANAGEMENT
With real-time monitoring, it is possible to look at your processes and see where energy is being used efficiently – or inefficiently – throughout your home or business. Let our control systems optimize energy consumption while maintaining comfort. We work closely with architects and builders, as well, who desire to execute such energy-saving ideas into their projects.
Find more …
---
ENTRY SYSTEMS
Our entry systems can be standalone or integrated into your phone system, so that when someone rings the doorbell, your phone rings. You can pick up to speak to the visitor, or press a button to open the gate. Add video capability, and you can see who's there. Or program your doorbell or phone to pause the music system so you never miss a ring, no matter how loud you like your music. Together, we can customize a solution to your specific needs.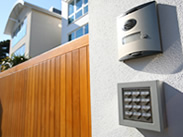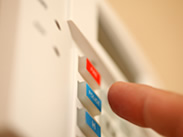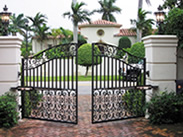 ---
VIDEO SURVEILLANCE
With cameras in and around your home, you can monitor activities whether you're in the house or halfway around the globe. We can route your security system through a central monitoring system, alerting you via email or text message of events that you set.  If the temperature in your wine cellar exceeds a certain level, or there's a water leak, you and your plumber can both be notified. If they are integrated with your home control system, you can adjust the temperature or shut-off the water remotely.
---
SECURITY
Preview streaming video from security cameras right on your touch screen display or mobile device. Control camera positions with ease from a handheld, and even remotely from your iPad®, iPhone® or Android™ device. Make sure the kids are doing their homework or check in on retired parents miles away. Keep an eye out any time, all the time. At home, use your touch screen as a video intercom system so you can see who's at the door. While you're away, disarm alarm systems to let in the housekeeper or babysitter, then activate it as soon as they leave.
Find more …
---
MOTORIZED SHADING AND DRAPERY
Windows are a key design element in any residence. However, achieving the greatest beauty and efficiency in each room means being able to control the light that surrounds us. Motorized shading and drapery transforms harsh glare into soft pleasing light, enhances privacy while preserving exterior views, reduces solar heat gain, provides UV protection of expensive furnishings and artwork, and provides the ability to change daytime into nighttime for restful sleep. Clients and designers have hundreds of window treatment fabric and color options available to compliment any décor.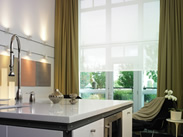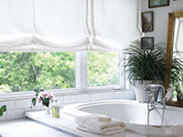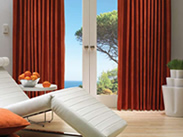 ---
CENTRALIZED DISTRIBUTION
Centralized Distribution allows for complete control and connectivity for every room, every application and every budget.  The power of total integration control and seamless connectivity all manifest from one centralized zone.  System expansion is easy; every room and each device is simply another node on the network throughout the home.
---
AUDIO / VIDEO CALIBRATION
Movies, music and games are created in calibrated and acoustically treated rooms and meant to be played back at high volumes in large, acoustic theaters. But reflections from walls and furniture in home theaters distort sound resulting in muddy bass, degraded high frequencies and surround envelopment. We specialize in the enabling technology that delivers sound amazingly close to the original recording so that every audio system – from budget home theaters to world-class cinemas sounds amazing.
---
NETWORKING
A network is the central nervous system of any connected facility. We'll help lay a solid and reliable foundation that's ready for today's technology and for tomorrow's. Our experience has shown a hard-wired solution almost always works best. So, why not wireless? Integrated systems represents a new challenge for conventional networks as networks are evolving to converged networks able to handle efficiently audio,video,data,voice,control when properly designed. The central backbone of your system needs to be able to allocate enough bandwidth for streaming audio video services plus real time control from touch panels and at the same time isolate the traffic between the different systems to keep broadcast at minimum and maximize speed.
Find more …
---
TOUCH PANELS
The perfect complement to a conference table, coffee table or nightstand.  No need to get up or walk across the room to a switch or a keypad on the wall.  Complete control is always at your fingertips. With several models to choose from, select just the right size, design and features for any room, application or décor.
---
POOL AND SPA
Wouldn't it be cool if you could turn on the spa from the bedroom as you don your swimsuit? Conserve energy with scheduling of pumps, water features and lighting, and harvest the sun's rays using automated solar covers. Also monitor pool health, receive customized alerts and even control the system from your cell phone. In addition to all the pool automation features, we really love the way the landscape lighting is tied into a single, easy-to-use system. No more going into the house soaking wet just to turn on the patio lights.
---
IRRIGATION
Your neighbors will be green with envy when they see you activate your sprinklers from your iPhone or smartphone.  Better yet on vacation and seeing your grass is a little dry through your surveillance cameras; just trigger your sprinklers for a set time, then the system goes automatically back to scheduling.